There are a lot of virtual meetings and events platforms available, and over the course of the past few years, most companies have adopted one or another. While Zoom is commonly used, it has certain limitations in terms of meeting flexibility and user experience. It's no wonder that the term "Zoom Fatigue" exists. Luckily, there are many Zoom alternatives.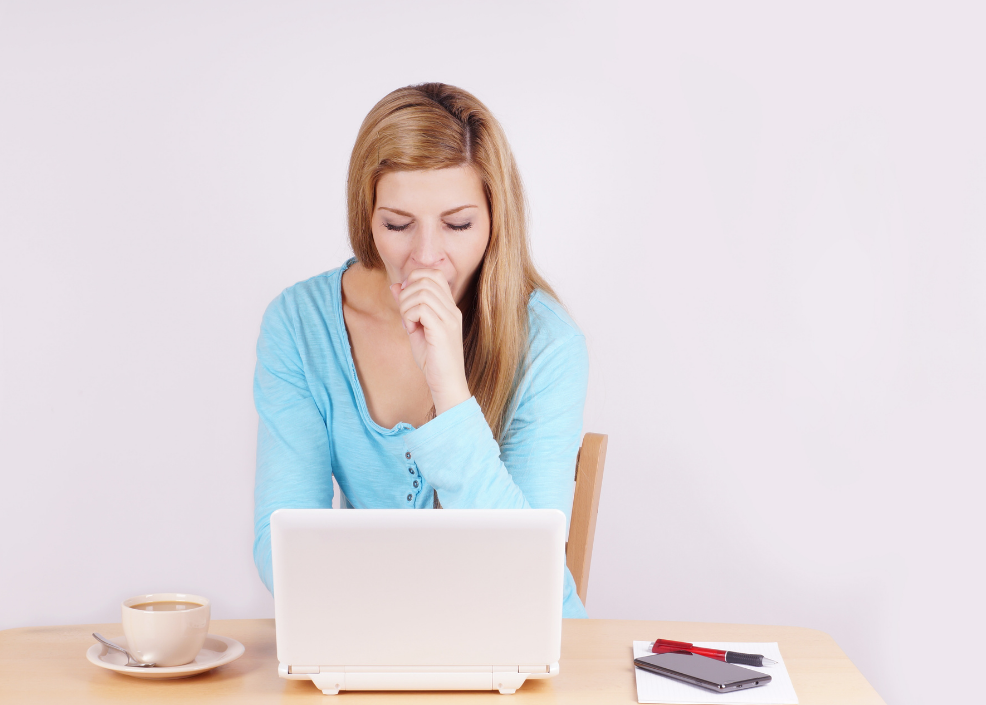 Meet Scoot— a revolutionary virtual meeting platform that promotes authentic connections to accelerate business, invigorate virtual experiences, and foster culture. Scoot allows people to naturally move through virtual spaces, allowing participants to be authentically present and strike up spontaneous conversations.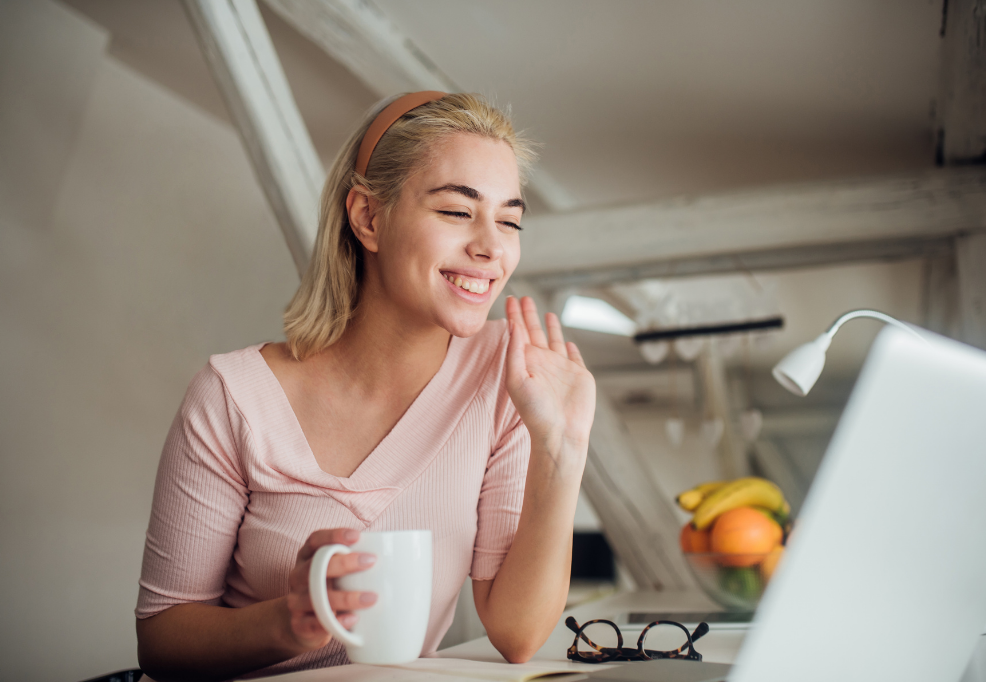 Because not all virtual meeting platforms are built the same, we've put together a list of the top 10 ways that Preciate is different from Zoom, WebEx, and Teams.
Top 10 Ways Scoot is Better than Traditional Meeting Platforms
1. Movement
One of the best parts of the Scoot platform is the freedom each attendee has to move around the room thanks to our Social Presence technology. Rather than being stuck in a tile, in one large conversation where only one person can talk at a time, Scoot allows users to move from one conversation to the next, just like you would in real life. Imagine being stuck at a party in the corner with one very annoying person talking your ear off, and no way to escape. With Scoot, you'll never get stuck in that situation – you can just use your mouse or arrow keys and move elsewhere.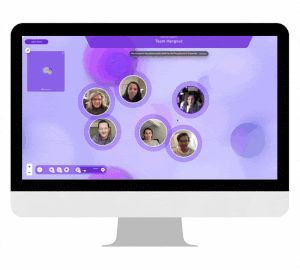 2. Music
Music makes all parties better, and with Scoot you can choose from over 20 premium music playlists to match each event you're hosting. There's everything from Holiday Hits to Jazz, Classical, Country, 80's, and even Pop. The host chooses the playlist for each room, but each individual user can control the volume on their own – so if they don't want to listen to something, they can turn it down or off completely.
3. Customized Backgrounds
Choose from one of our dozens of preloaded backgrounds for each Scoot room, or create your own and upload that to match your brand or specific event. Rather than each user blurring or adjusting their virtual backgrounds, this allows you to match the room you are meeting or partying in to whatever your theme or purpose is.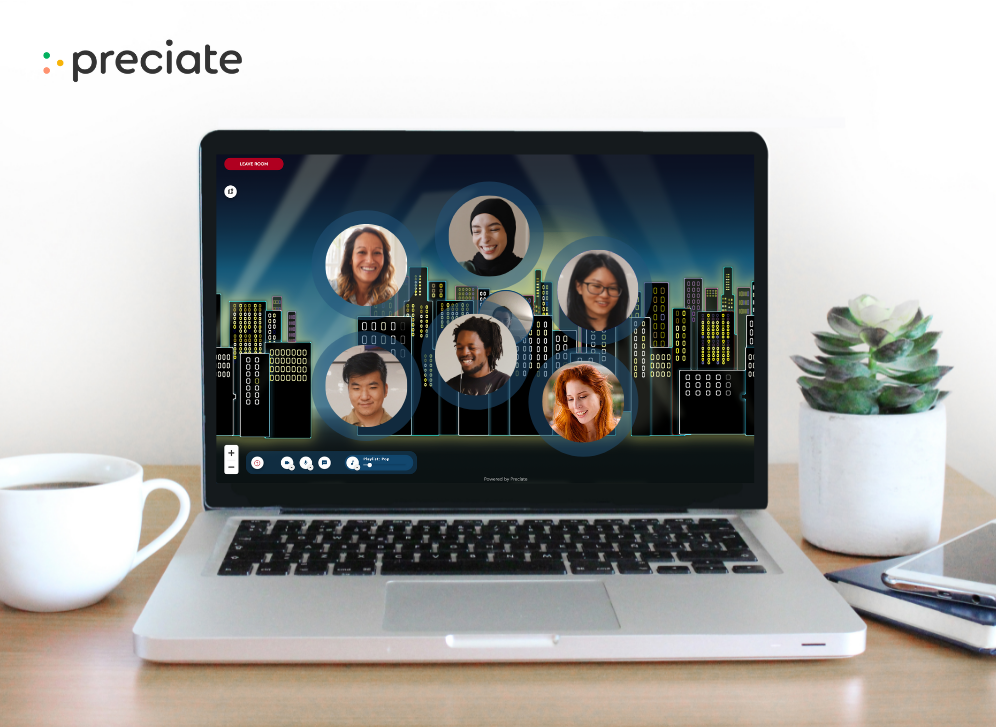 4. Room Items
In addition to customizing the background of each room, you can add in Room Items, which are images fixed in certain points around the room. These can serve as waypoints of navigation, meeting spots for when you want people to spread out, or just points of interest. Add photos of your team, recent client wins and highlights, or anything else you want to show off, and let people move around the room and find them.
5. Say Goodbye to Powerpoint
Say goodbye to boring powerpoint presentations with Scoot's Sales Motion feature. Sellers can use the room items mentioned above to tell your brand story, and take prospects on a specific journey around the room with you. Because users need to be close to each other in a room to hear one another (see Audio Proximity), your guests will have to stay with you in the room in order to hear what you're saying. This means increased engagement, because it would be very easy to tell who's paying attention and moving with you or not. Decrease your sales cycle and accelerate your business.

6. Larger Capacity with Connected Rooms
Scoot events aren't limited by size. For larger events, you can even connect multiple rooms with different themes or purposes. You can distinguish each room with a unique background and theme to spice up your party, or separate them by topic for larger meetings or recruiting events. No matter what you are trying to accomplish, Connected Rooms can help you host engaging networking events without having to worry about being shoved into a breakout room by the host.
7. Audio Proximity
Just like being at a real-life conference or event, Scoot has a unique audio proximity feature that means you can only hear the conversations near you – not the entire room talking at once. This allows for smaller, more authentic conversations, as well as the ability to move from one conversation to the next at any time. For best results, groups of 10 are the maximum allowed to speak and hear each other at once. However, there are a variety of presenter audio modes that allow for larger groups to communicate with each other. Hosts can use the "Make a Toast" feature to decrease individual conversation audio and speak to the whole room at once. There are also "Push to Speak" buttons you can enable to allow anyone in the room to speak to the entire room as well. No matter how many people you have in a room, the host can decide how you want the audio features to work for the best results.
8. Games and Activities
Because users can move around the room and break into groups, games and activities are easier and more fun. Our teams have put together a variety of icebreakers, agendas and activities to inspire you to plan an amazing experience. When you're trying to get to know other people virtually, we could all use some help getting conversations flowing from time to time. Scoot has a unique Conversation Starters feature where you can share prompts with the room to get their conversations started. Choose from our built-in questions, or add your own to match the particular event or theme.
9. Built-In Recognition
Company culture, teamwork, and engagement are driven by relationships. The stronger and deeper relationships are among your employees, co-workers, and partners, the more resilient and effective your business will be. Strengthen relationships – the core of a strong culture – by activating the Give-Get cycle of recognition. Without ever leaving the Scoot room, you can give recognition to other attendees or directly to performers. It's simple, fast, and powerful, and will help build an appreciative and healthier company culture.
10. Realistic Networking
All of these features together – audio proximity, freedom to move, connected rooms, and conversation starters – mean that your guests will have a more realistic networking experience that isn't available in Zoom or other virtual meeting platforms.
But you don't have to take our word for it. Take a look at some of the reviews we've received on G2.
"Amazing and Unique Social Experience"

What do you like best?
"Scoot offers their "Socials" as one of their coolest features. It is a really unique and fun experience. Totally different than your typical Zoom session. We use them at our company for weekly social hangouts and catching up with all our remote at-home workers."

"New Level of Video Chats"

What do you like best?
"It's a very cool idea to be able to move around in the "room" and talk with other people and groups. I definitely get the feel of being at a large mixer or event where there are going to pockets of people that I can speak to. Also the volume changing dynamic is very and useful when you want to have a side conversation with someone in a bigger group."

"Way better interactions than Zoom!"

What do you like best?
"It's a big improvement over being one of a thousand tiles. It's a big step to making a remote get-together feel like a cocktail party. It brings humanity back to virtual meetings. Preciate lets you choose who to talk to. Let's face it; sometimes you're done with a conversation, but other chat apps don't provide good options for sidebars."

"Fresh approach to socialization online through Video Conferencing"

What do you like best?
"Networking needs are inevitable if you like to grow as a business and connect to your peers and customers. Preciate is providing a convenient solution to build a team as well a customer based through smart tools as every business is looking to stay connected in these dire times of pandemic when online communication has become a pivotal ingredient to businesses."

"Organic Virtual Connection"

What do you like best?
"The casual environment to float around and join multiple conversations hearing only your own and the music in the background reduces the stress of feeling the need to always talk or fill the void of quiet."

"Preciate breaks away from the norm and adds a little fun to that team meeting you have to have."

What do you like best?
"The bubble feature where you can form into different groups and not hear those around you is great!"


Try Scoot Today
If you like what you've heard, and would like to take Scoot for a spin yourself, you can get started and build a room today. Or, connect with a member of our team for a complete demo and to learn about how Scoot can help you have healthier relationships and accelerate your business than Zoom or Webex.